Require an Excellent Open Source CMS Website for Your Company - Contact W3Idea
Every business is unique and only the owners of the business know in detail about their company and its processes. Thus the website owners should have the ease to edit and manage their website without the need of any experts. Generally a website management is not easy but with the help of open source CMS website development services it becomes helpful for the company managers to edit and manage the website.
An open source content management system (CMS) is a computer application that supports the creation and modification of digital content and is often used to support multiple users working in a collaborative environment. Most common CMSs include web content management systems (WCMSs) designed to support the management of the content of the web pages.
There are number of companies that provide content management system services in Thane. W3Idea solutions which started off 5 years back as a small web designing entity and have transformed into a new age creative design agency and is admired for its highly outstanding creative concept.
Top Class CMS Services in Thane
The company provides excellent CMS website design services in Thane and with their creativity they have already provided their services to many clients and have done excellent job. The clients who have experienced their services are very happy by their efforts and have even praised their efforts and even recommend their services to other people.
Their mission is to convert their customer's ideas into reality in a streamlined way through their expert technological solutions. W3Idea has an expert team with very good communication and technical skills with which they provide excellent content management website development for various companies. The team works with the vision to provide excellent services and establish W3Idea as the most technocrat brand that would provide the best technological solutions at affordable prices.
The important key to succeed in the global market for organizations is the requirement of adopting IT solutions that are shaped by innovative business practices and here is where W3Idea comes into the picture. The expert team of this company provides excellent IT support which helps businesses to manage the complexity of integrating solutions across an IT ecosystem without any difficulty.
Different Services by the Company
hey provide different types of services that include:
Website Design Services
Website Development Services
SEO Services
E-Commerce Services
Content Management System Services in Thane
Online Marketing Services
Online Content Creation Services
Mobile App Services for iOS and Android
W3Idea solutions is committed to being the best business partner by providing unmatched services and they follow a customer centric approach and work according to the clients requirement right from the conception stage to completion of the project. They strive to serve you the best with their excellent and their proven successful content management web design engagement model which is shown below.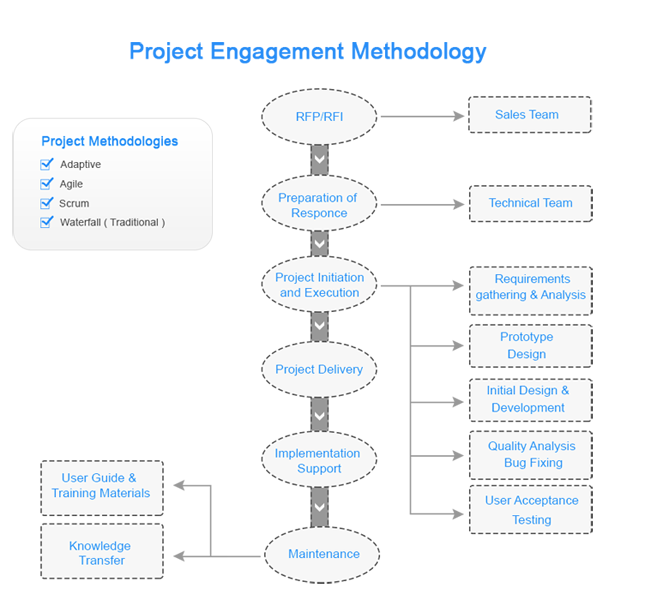 How to Choose the Best Open Source CMS Development Platform
They provide CMS website development services on various platforms like Wordpress, Joomla, Drupal, etc. Most of the people are confused about which platform to choose for their company's CMS website. These all platforms are little bit different from each other on the basis factors such as:
Installation time and Time complexity
Plugin and Theme availability
Ease of Use
Customization and Up gradation
In terms of installation Drupal feels bit lengthy, while Joomla provides extra option and security feature while installation and Wordpress has minimal interface and installs quickly. Wordpress in more popular as it has more number of themes and plugin options than other two and it is also much easier to use because of less interface and easy language than Joomla or Drupal which has more technical interfaces.
In terms of customization and upgrades Wordpress is again leading than other two. Joomla has customization and upgrading options but ease of use in Wordpress makes it ahead of Joomla while Drupal does not have upgrading and customization options. Overall all three have their own benefits and lack at some points. After discussing your requirements with the content management web design service provider you can choose the best platform for your CMS website.